Coincidentally, the day after the paperback release, the series got nominated for a
Mythopoeic Award for YA Literature
alongside talented people like Tamora Pierce and Maggie Steifvater and Delia Sherman and Cat Valente. So I went shopping and bought myself two "award rewards":
HEADBAND OF SPARKLING DOOM:
Here, have a terrible washed out cameraphone pic of me wearing said headband:
And CHUNKY PLASTIC BRACELET OF AWESOME:
*majestic wave of my hand pictured above* AS YOU WERE.
Happy Book Birthday, SO SILVER BRIGHT paperback! You are... *sniff* the last little bird out of the theater book nest.
*drumroll*
The animated book trailer for SO SILVER BRIGHT!
*curtain opens*
Special, special thank yous to
Lorena Lopez
for the background art and animation, and
Jason Chan
for the character art. And now, to celebrate, we have a contest! Win one of the following...
Team Nate or Team Ariel t-shirts:
So Silver Bright tote bags that say "Shakespeare, Fairies, Mayhem... AND PIE":

Plus multiple batches of note cards, posters, window decals, and more featuring Jason Chan's fabulous cover art.

UPDATED TO ADD: In honor of Amy Farrah Fowler's reaction to hers, I am adding a tiara to the prize list! :)

The details:
Post the trailer on your blog, Tumblr, Facebook, or link to it on Twitter
Bonus points: Include a link back here to the contest and/or a link to your favorite place to buy the theater books
Email me: lisa at lisamantchev dot com
Subject line "SSB ANIMATED TRAILER CONTEST"
Please include your mailing address and links to your posts
Open internationally
Contest closes at midnight PST on January 31st.

*confetti!* Go forth and post!
Here it is... the project that's been simmering on the back of the stove alongside the snozzberry jam!
Justine Magazine
:
"Open the door to your imagination and set all reality aside when you dive into this glittering and magical fantasy series…There's something so optimistic and light about these books that it just makes us feel good."
And
the Mythopoeic Society
has one up for Perchance To Dream:
"Sparkling, witty, warm, literate, and offbeat, Perchance to Dream continues the mix of whimsy and wonder that made Eyes Like Stars a success (and a 2010 Mythopoeic Fantasy Award finalist). Bertie's quest to balance autonomy and love may strike a chord with many adolescents—and not a few adults."
The fairies are baking... note in the comments what flavor you want, and with or without ice cream!!
Just got a note from Lizzy at F&F that the series got a lovely write-up in the Oct/Nov issue of
alaskanmermaid
. Click through for full-sized pics:
First, Ninja Bertie:
and Harajuku Bertie: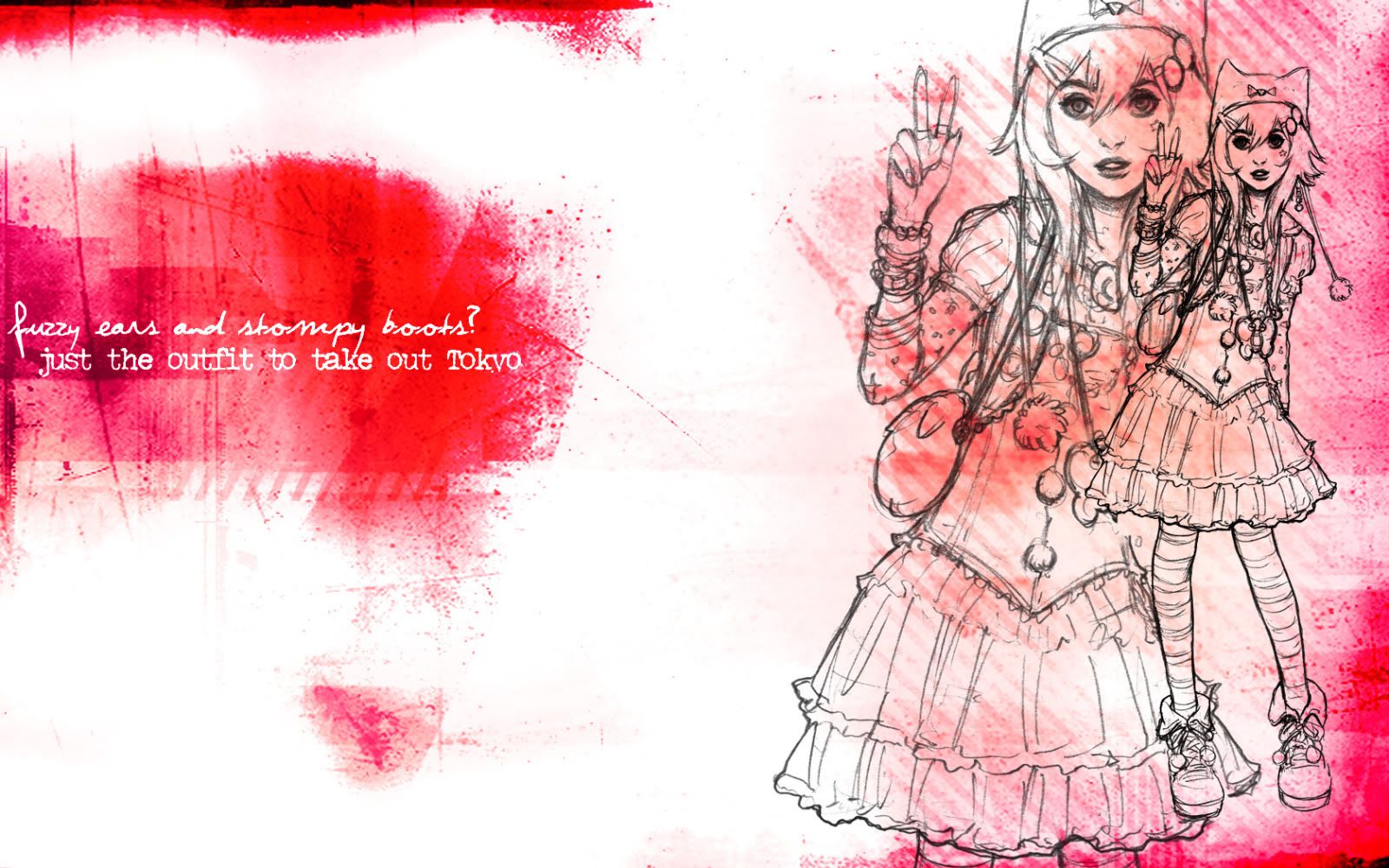 (
And, in case you missed the other two:
Collapse
)
As promised, here are two more Bertie-costumed wallpapers to say thanks to my readers! Sketches by the awesome Jason Chan, manipulations by
ANYWAY... two hours fiddling on Vistaprint, and came up with this design. Rack cards are like super-tall postcards, meant for tourist centers. Yes, I went big! Needed to get all three covers on there.
Fingers crossed, they will be here in time for SteamCon. Yes, I will autograph them for you if you wander past me.
Boy, that was bad. I expect the internet police to mosey through and write me a ticket any second now!
So Silver Bright i
s making its way into the world, and I want to say thank you to all of the theater's Patrons and supporters. Below are two (of four) character sketches of Bertie, drawn by the awe-inspiring Jason Chan and crafted into wallpapers by the lovely
alaskanmermaid
.
First, Steampunk Bertie:
I wanted to do an open mic, ask-the-author-anything, fire the book cannons at will thread for SO SILVER BRIGHT. So, if you have questions, nitpicks, rants, raves, want to share your favorite lines from any of the books or poke me with a sharp stick, the comments section is now open for such business.

THERE WILL (PROBABLY) BE SPOILERS. You Have Been Warned!
So Silver Bright
is sitting next to me, wearing a birthday crown and having a piece of cake (chocolate ganache... some sort of special bookday powers are keeping the fairies out of the frosting.)
The lovely
seanan_mcguire
recently posted
an excellent set of Do's and Don'ts for her release of One Salt Sea.
If you are at all inclined, love the theater series and want to see it do well, please mosey over and read. Might I particularly recommend the "DO buy the book as soon as you can" as an appetizer. "DO ask your local bookstore if they have it on order" is also excellent today, and "DO post reviews on your blog or on Amazon.com." I will also add B&N.com and Chapters Indigo to that list,.
AND NOW, THE BLING.
I have hardcover copies of
So Silver Bright
to give away, as well as five "rose rings" (as featured on Jason Chan's excellent cover art.)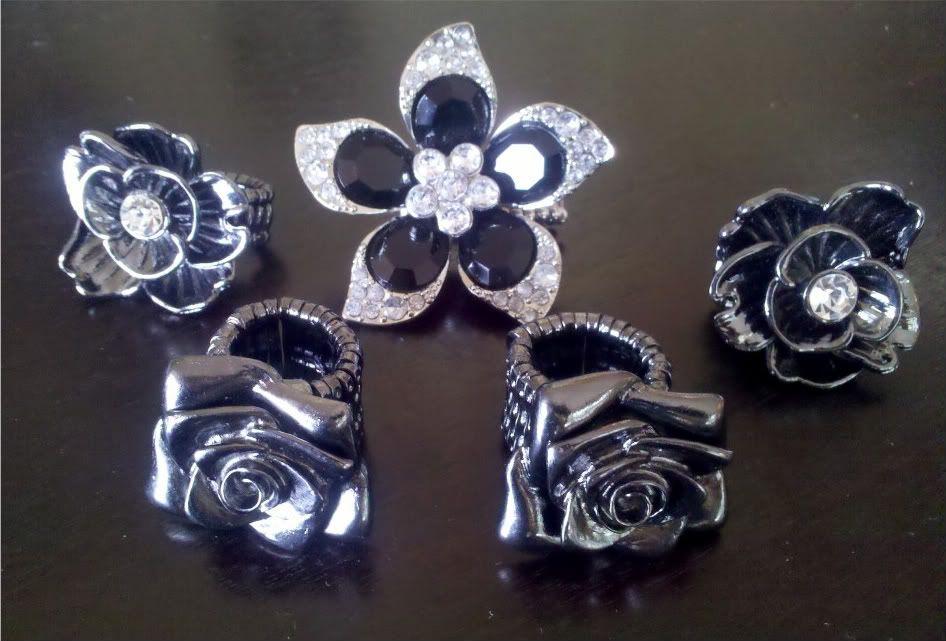 There will be a bazillion and one ways to enter... ok, perhaps not quite that many, but all of them require making some noise. So...
1) Use your favorite social media outlet to talk about the book release, linking to your online bookstore venue of choice (blog/Facebook/Tweet/Tumblr, or all of the above, one entry for each.)
PLEASE tag me @lisamantchev on Facebook posts and use the #sosilverbright hashtag on Twitter!
2) Post a review to your blog, Amazon, or B&N.com. (Two entries for each review.)
3) Take a picture of yourself with your copy of the book., or a picture of the book "in the wild." These should be posted in your social media outlet of choice (one entry for each post, so if you post the picture on your blog, your FB, and link to it on Twitter, you get three entries.) You can also post them in this thread or
the release day page on Facebook
!
4) Celebrate the day in the most theater-appropriate manner you can imagine. This might include: costuming, desserts, glitter, handsome boys, coloring your hair, or calling in a scene change. The fairies only ask that you remember how they feel about musical numbers... But post pictures to your social media outlet of choice (one entry for each post.) You can also post them in this thread or
the release day page on Facebook
!
Once you have performed these random acts of cupcakery and silliness, you can email your point total ( lisa at lisamantchev dot com ) with the subject line
SO SILVER BRIGHT RELEASE DAY CONTEST.
PLEASE include your mailing information and links where applicable. Open until Friday, September 16th at midnight PST. Winners will be notified as soon as humanly possible. This is an international contest, open worldwide.
I will be also giving spot prizes as possible to entries of super-creativity and/or anything that makes me laugh out loud (or cry.)
Thank you for taking this journey with Bertie, the fairies, and me. We appreciate it more than you will ever know.
Author copies are in the house:
Looks like a trilogy to me!
Tune in tomorrow for a chance to win a ring donated by the lovely Mrs. Edith of the theater's Wardrobe Department to celebrate the launch!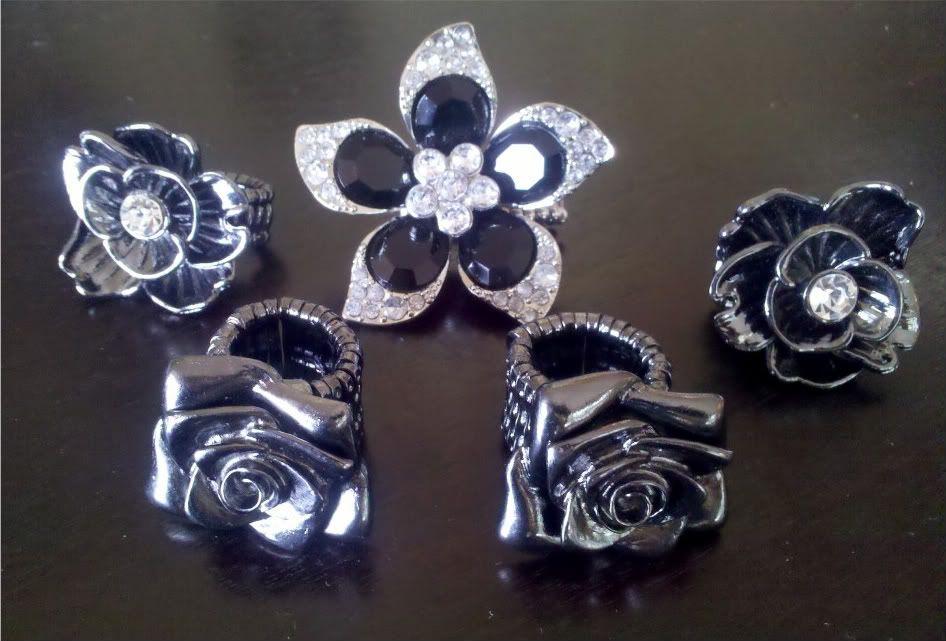 Happy author has tied tinsel (Hair Flair) upon her person: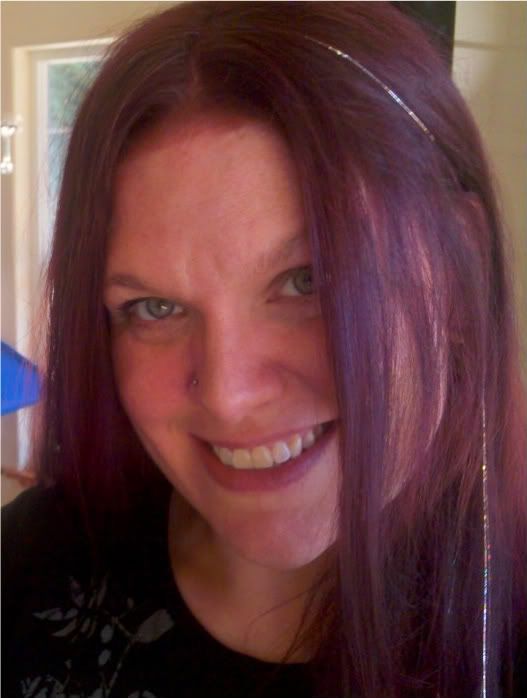 Don't forget, I have local events this time around!
1) The Sequim library on Tuesday, September 13th at 6 pm (there will be brownies, candy, and balloons, plus costume bits and books for sale!)
2) Liberty Bay Books in Poulsbo on Saturday the 17th at 6:30 pm
3) University Bookstore in Seattle on Friday the 23rd at 7 pm
4) Third Place Books in Seattle on Sunday the 25th at 3:30 pm
Signed books can be ordered and shipped! :)
Or perhaps it's already there!
Liberty Bay Bookstore
Poulsbo, WA
September 17th at 6:30 pm
University Bookstore
Seattle, WA
September 23rd at 7 pm
As always, there will be fairy dust and cupcake magic involved. There is a chance we will schedule a second Seattle event, so stay posted for that.
If you live somewhere other than the enchanting Emerald City, your best bet to have me come to your town and sign books is to have your favorite bookstore or library contact the fabulous folks at Feiwel & Friends to set something up.
In other book launch madness, I've been quietly plotting over here (hence the silence on my part) and there will be exciting arty things to share in the coming weeks, including brand-new artwork by Jason Chan. I will also be giving away signed copies of EYES LIKE STARS and PERCHANCE TO DREAM, to catch readers up before the curtain goes up on the third act.
At last, some news! I have here the first confirmed events for SO SILVER BRIGHT: